As the #1 Pinoy livestreaming app, kumu believes that everyone deserves a moment to shine–even if you think you're talentless. That's why kumu Social TV wants to give you your spotlight with the hilariously nonsensical "Talentadong Waley: Ang Pinakawalang Kwentang Bidyo", a special show that highlights the many "useless" talents on kumu. The call for kumu klips entries has officially begun, and will run until June 25th, while the official show will have its livestream broadcast from Monday to Friday, 10PM on @kumusocialtv.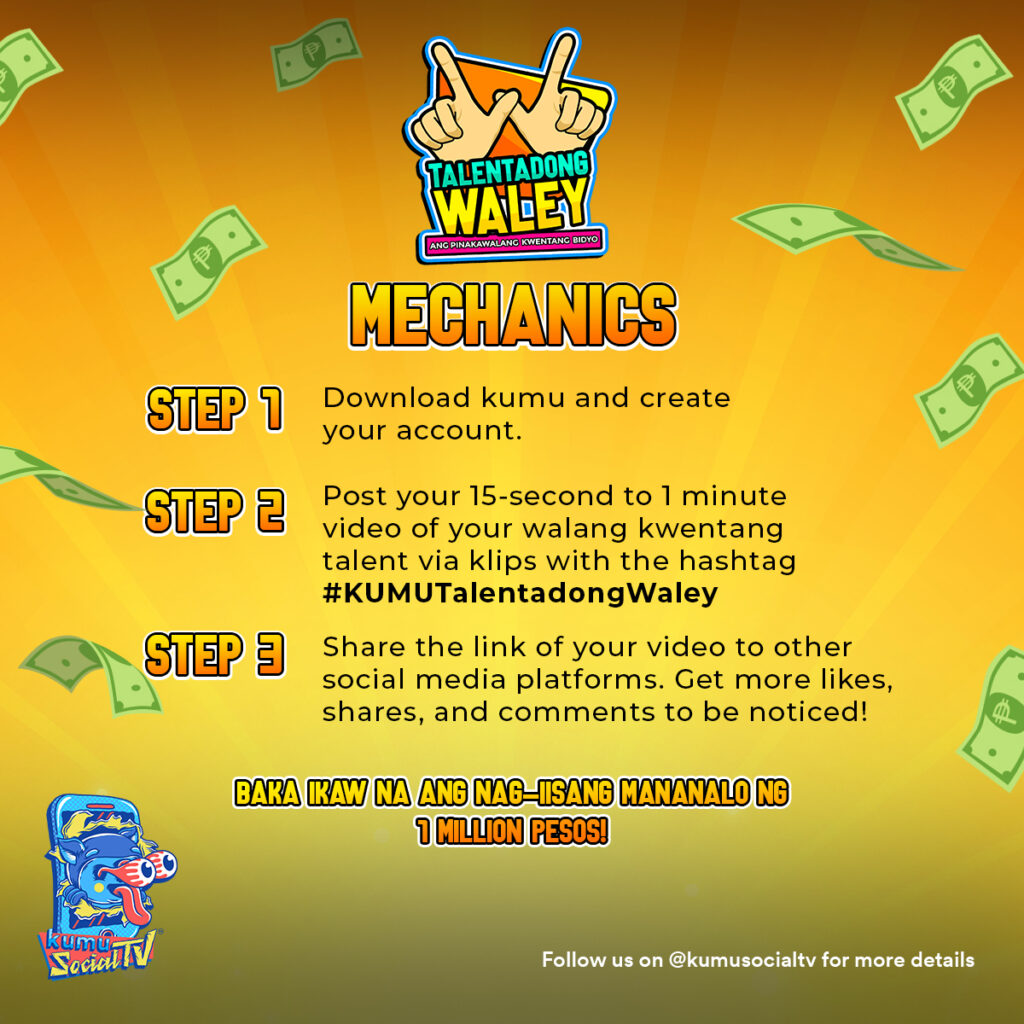 Dubbed the "talentless talent show", the the show is a just-for-laughs entertainment program, with a chance to be an instant millionaire. Rules for entry are simple: Share with us your useless talent in a 15-second to 1-minute kumu klips video as your official "WALANG KWENTANG BIDYO" entry. Feel free to get as creative as you can! Share this kumu klip entry on kumu, and across all social networks under the official hashtag #kumuTalentadongWaley. The more likes, comments, and engagements, the better your chances to qualify for the show. 
Top kumu klips entries will be featured on the "Talentadong Waley" show within the week, and daily winners will advance to the next round of useless talents. The grand winner stands to win 1 million pesos! 
It's going to be a fun, outrageous show guaranteed to tickle your funny bones because we all could use some laughs nowadays. There's plenty of surprises in store in the show", which will be hosted by the wacky Nikko Natividad from Seen Zone, known for his addictively funny videos online; Direk Cathy Garcia-Molina will be a judge together with laugh-trip guest judges including Madam Ely from Seen Zone, as well as Alex Calleja and Ahwel Paz from the FYE Channel. 
Submission of kumu klips entries is now open to all Kumunizens until June 25th. To see if your "WALANG KWENTANG BIDYO" made it to the next round, be sure to watch "Talentadong Waley" livestream, beginning June 14th, Monday to Friday 10PM, exclusively on @kumusocialtv. 
Don't have the kumu app yet? It's easy! DOWNLOAD THE APP via our link: https://app.kumu.ph/palabastayo to start enjoying the kumu experience everyone is talking about.
Click here for more stories like "'Talentadong Waley' to give 1M to best nonsensical talent". Make sure to follow and subscribe to our social media accounts: Facebook, YouTube, Instagram, Twitter, and Kumu.